Vinyl Wall Coverings for Wisconsin Businesses
Waukesha Painting Contractors Applying Commercial-Grade Wall Coverings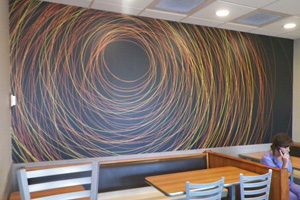 High traffic buildings like hotels, clinics, churches and offices often elect to utilize our commercial-grade 64 inch wall coverings for lobbies and hallways. The primary benefit of modern wall coverings is the ease and completeness of the cleaning process. Scuffs and stains come off easily with a simple scrub.

At Perfection Painting, our New Berlin painting contractors use damage and wear resistant commercial grade wall coverings to ensure your covered surface stays protected and great-looking. Modern vinyl wall coverings resist swelling and bubbling, even in high humidity.
While hospitals prefer vinyl wall covering for the sterile texture, restaurant and store owners appreciate the ability to customize their interiors by choosing between an extensive variety of wall coverings. For hotel owners, 64 inch commercial grade vinyl panels are an especially popular way to augment the Wisconsin hotel painting services which Perfection Painting specializes in.
Benefit from Wall Vinyl; We've Got You Covered
Our Waukesha wall covering installation services provide all kinds of vinyl coverings for any corner of your commercial building. The possibilities are endless, choosing from traditional to modern prints, whatever the theme or style of the room.
Benefits of opting for wall vinyl coverings include:
No peeling, chipping, or easily-spotted stains
Freedom to customize
Quick and easy installation process
Adds texture or special effect
When looking for a style-boost or an instant update in your hotel, hospital, or reception area, look no further in Perfection Painting Corporation; your professional wall covering technicians for any room, any wall.
Style Tips in Making the Best Use of Wall Coverings
Worried about taking the plunge in installing wall coverings? You don't have to cover every single wall in graphic print décor! We recommend only covering one wall with our quality vinyl, making it the main focus of the room. Overdoing the vinyl will make the room look cluttered and overwhelming. The eyes won't know what to look at first!
Selecting the perfect covering with Waukesha Perfection Painting is done in 3 simple steps:
Choose the room and correlating wall you wish to decorate
Select the theme and/or color scheme
Contact our interior wall covering experts, collaborate, and schedule for installation
No matter the size or type of print, your new wall vinyl will look stunning in any room. Our commercial interior painters complete the rest of the room redesign with an extensive variety of paint colors, finishing off the entire look. Turn to our creative interior decorative services for the best value and service.

Our Waukesha painting contractors routinely apply high quality wall coverings in cities surrounding southeastern Wisconsin, including: