Waukesha Residential Painting Company Providing Home Painting Services
Home Painters for New Berlin & Waukesha County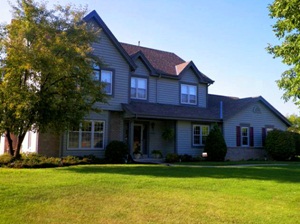 From entire condominium complexes to one small bathroom, Perfection Painting is PERFECTLY equipped to handle all forms of Wisconsin painting services. Expert residential painting contractors provide numerous benefits to homeowners and building contractors beyond the obvious aesthetic appeal of crisp, exact paint application.

Residential Painting Services Table of Contents:
Waukesha Residential Painters Delivering Consistent Results
While ambitious do-it-yourselfers tend to think only about using a few rollers and brushes to coat flat surfaces, our expert Waukesha painting contractors have absorbed the deeper intricacies of Perfection Painting. Our skilled Brookfield painters understand the usefulness of precision painting techniques when it comes to increasing home property values and protecting against damage. Whether our Waukesha painters are enhancing a new construction project or updating an existing home, we draw on years of experience and a meticulous attention to detail to create fantastic looking homes.
Residential Exterior Painting has an Expiration Date
For New Berlin residents, the impact of Wisconsin's winters limit the time for residential exterior painting. When fall is in full swing, the time to paint your home exterior begins to diminish. Two key factors for this are:
Dropping temperatures
Moisture from dew and snow coverage
But while exterior painting is best in the summer months, the winter months are perfect for indoor painting. You're capable of controlling the moisture in your home and the temperature may be set for ideal paint drying conditions. If you need interior painting done in your home, look to the best painting company in the area: Perfection Painting.
Painting Company for All Seasons
Why paint your home yourself and take the risk of the paint not drying properly or causing you problems – costing you more money later on. With Perfection Painting, house painters with experience spanning over 40 years will be working on your interiors. We know just what kind of paints to use and all the right techniques to get the job done perfectly. Perfection Painting really lives up to its namesake with A+ quality painting service
If you need your New Berlin home painted this winter season, trust the best residential painting company in Southeast Wisconsin.
Perfection Painting, the easy choice for unmatched home interior painting services in New Berlin and beyond.
Our Residential Painting Services:
Your home is your castle, and castles demand perfection. Our Waukesha interior painters adhere to the best practices for every interior painting detail. We start with a thorough sweep and vacuuming before beginning other initial preparations. An expert Lake Geneva painter understands how dust, dirt and cobweb removal enables a clean and consistent coat of primer. For new constructions, the next step is to caulk all millwork. For restorations, it's important to ensure all nail holes are puttied. Perfection Painting does the job RIGHT, utilizing drop cloths, covers, and painter's tape to protect furniture and trim before sanding and priming. By meticulously attending to all the details, Perfection Painting offers the quickest path to increasing the property value of a new or older home.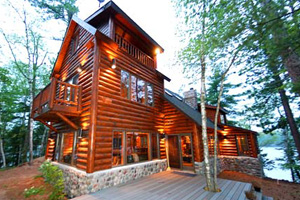 Protect your property from the elements and depreciation by investing in Perfection Painting. Our Brookfield painters take pride in their handiwork, scrupulously attending to every detail. Our painting contractors will spackle every divot and caulk ever crack, guarding your home against rotting, blistering, and peeling, caused by moisture and mildew. Whether you're looking to enhance your property value before putting it up for resale or simply keep your home or apartment building looking great for years, there's no substitute for the diligent work of a painting professional. At Perfection Painting, we leave the shortcuts to the amateurs. The value in quality Wisconsin exterior painting comes from doing the job right the FIRST time.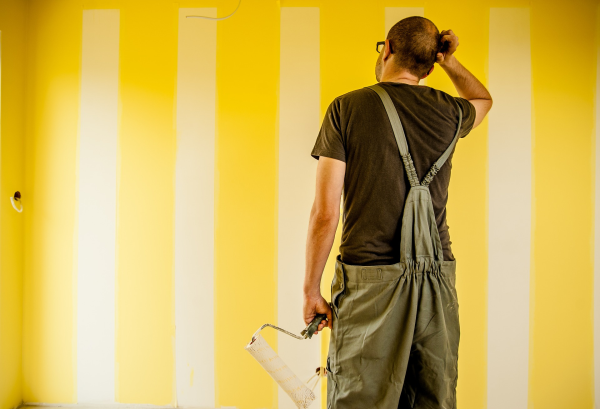 Modern wall covering technology offers a number of advantages to residential homeowners and building contractors. Perfection Painting utilizes wear and tear resistant wall coverings to protect your walls against stains and physical damage. Quality wallcoverings are easy to wash; simply wipe away buildup or marks with a wet cloth. Wall covering PERFECTION comes from selecting a timelessly attractive design with lasting durability. Choose Perfection Painting in Waukesha and we'll help you pick between a number of Wisconsin wall covering options with both classic and modern appeal.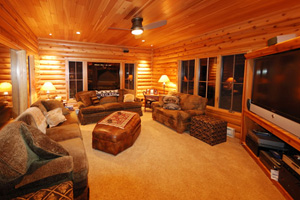 There are a number of benefits offered by professional wood staining. While paint creates a thick coating and totally transforms the texture and appearance of a surface, stain is semi-transparent, drawing upon the natural appeal of wood grain and enhancing colors for added luster or vibrancy. A quality stain does more than just revitalize an old deck or fence. Flooring and walls will shine like new, adding style and sophistication to your home or apartment complex. Staining adds a new layer of protection to your exterior or interior woodwork, combating sun-fading and wear while enhancing property values. Our Waukesha painting contractors will expertly match wood stains to other furniture and trim, or we'll help you select a new, great-looking color scheme.
Protect your investment with caulking and sealing done to PERFECTION. Our expert Waukesha painters utilize the optimal caulks and sealants for the given surface(s), stopping potentially damaging moisture from collecting in cracks and gaps. Proper sealing and caulking also saves money on energy bills by keeping out drafts and fortifying your HVAC system. Our painting contractors avoid the brands of caulk which resist paint adhesion, ensuring crisp, bold lines. Dramatic edges are the cornerstone of a residential painting job well done.
Residential Drywall Repair
The advantages of drywall repair PERFECTION over a shoddy patch job are many. Our painters pay attention to the details, perfectly blending colors and textures to get rid of all evidence of former cracks, holes, and eyesores in your home's drywall. We fix drywall in Waukesha effectively and thoroughly, tending to every little detail to make your wall look as good as new. One often-overlooked benefit to choosing the best professional painters in Waukesha is cleanliness. Drywall repair can be a messy affair. Perfection Painting protects your property by covering floors and furniture before plastering and sanding. When we're done, you can trust we'll leave behind a tidy workspace!

Free Painting Estimates - Contact Perfection Painting Waukesha
Whether you require home painters for a new or in-construction apartment and condominium complex, or you're just looking to touch up an old bathroom, Perfection Painting is your ideal residential painting company in Wisconsin. Our total commitment to customer satisfaction starts and ends with diligently tending to every detail.
Service Area Locations