Best Commercial Interior Painting Service in Wisconsin
Waukesha Painters for Hotels, Clinics, Restaurants and other Businesses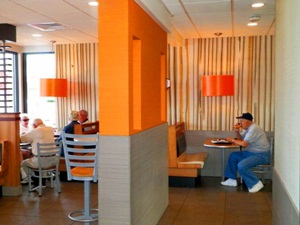 Giving your business a crisp, clean appearance creates a sense of authority and trust. Accordingly, our Waukesha painters will work with you to select an interior color scheme to convey your company's professionalism. Perfection Painting will implement your scheme with precision and care, creating the best results in Wisconsin commercial painting.

Whether you're looking to liven up a drab office or revitalize an outdated store, our New Berlin painting contractors will attend to every detail to ensure your building's interior looks great.
At Perfection Painting, we understand the needs of business owners. Our Brookfield painters have extensive experience working around business schedules to keep your workflow running smoothly. We also serve the other surrounding cities of southeastern Wisconsin:
Get Color-Happy with Your Waukesha County Business
Color therapy, or "chromotherapy", describes the emotional effect of colors on a person's mood. Particular hues can make a person feel sad, relaxed, or other different emotions. Though color choice seems like a minor detail, it makes a huge impact on your clientele.
Whether your business is a hotel, restaurant, hospital, or anything similar, you must choose your color scheme wisely. The type of industry your business falls under determines the colors you can use and stay away from.
Our New Berlin commercial interior painting experts assist you in selecting the perfect color for your business. We make the selecting process painless and easy, leaving our clients feel confident in their final decision. Choose Perfection Painting and discover how your business benefits from our professional color-styling guidance.
Business Interiors Benefit from Paired Color Schemes
Colors need no words, they portray feelings quite clearly. Select color palettes are best suited for different businesses; as flourishing establishments know which tones bring in more revenue.
Decide what colors suit you best and grow your business:
Business

Healthcare

Restaurants

Lodging

Emotion

Calm, comfort, & tranquility

Depends on the atmosphere; joy, contentment, thirsty, & famished

Hospitality, relaxation, & comfort

Location & Suggested Color Scheme

Patient Rooms

Muted colors; beige, white, & gray, with a bold color on one wall

Children Rooms

Bold & bright colors; red, green, orange, & yellow

Fast-Food

Bright colors; red, yellow, & green

Fine Dining

Muted tones; gray, ivory, & beige, or warm colors; red, gold, & orange

Bar

Cool colors; green, blue, purple, & metallic

Large Group/Banquet Hall

Dark tones; deep blue, purple, dark gray, & crimson

Guest Rooms

Avoid obnoxiously bold colors; try various shades of 1 color

Conference Rooms

Should be different than guest rooms; muted colors or earth-tones

3 Colors to Consider for Your New Commercial Interior Painting
The colors implemented into your business subliminally convey feelings to your customers. When updating your look with a commercial interior painting, here are three vibrant colors to give a good impression:
Orange: Catches the eye and presents uniqueness. Since it isn't commonly used, orange lets you stand apart from the rest of your competition while presenting a contemporary, attractive atmosphere. Red is an attractive complimentary color.
Blue: Known to put people at ease. Blue is the color associated with truth, loyalty, and trust. Putting this in your business helps convey a sense of peace to your customers. White is an excellent complimentary color.
Gold: Imbues a sense of success and wealth. Gold is a strong color helping convey a sense of power in a more colorful way than the other power color: black. With gold interior painting you will say to your customers, "We're successful, and you're making the right decision coming to us." A great complementary color to gold is silver.
We'll help you find the best color to show off your business interior, and we'll implement it with the skill and perfection we've gained from over 40 years of experience. If you're interested in vinyl wall coverings, we apply those too!