Best Interior Painting Service in Wisconsin
Waukesha Painters delivering PERFECTION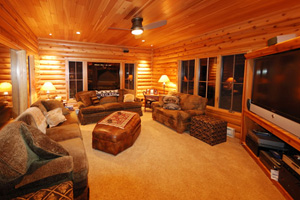 Whether you own a condominium, apartment, or house, creating a place of real value demands the quality of Perfection Painting. By drawing on years of experience and a meticulous attention to detail, our Waukesha painters ensure every surface is properly prepped and painted.
The key to PERFECTION is doing the job right the first time. Our Brookfield painters prepare surfaces and work areas to ensure each interior painting job benefits from perfect cleanliness, both before and after painting.

Our Waukesha painting contractors add value to your investment by tending to every facet of your residential interior painting project -from floor to ceiling. Perfection Painting serves the following southeastern Wisconsin cities:
4 DIY Interior Painting Disasters to Avoid in Your Waukesha County Home
Improper prepping and priming can magnify your home's imperfections and cause damage.
We know primers and sheen. Wall texture, traffic level, patches and pre-existing color must be carefully considered when selecting the right primer and paint or your home will go from beauty to blunder. Floors, molding, switch plates and doorknobs require time-consuming preparation. With years of interior painting expertise, our Waukesha painters deliver perfection every time.
Miscalculating how much paint you need can bring your project over budget.
Determining how much paint to buy requires more than adding up the square footage of your walls. Alcoves, wall porosity, primer and multiple coats must be considered. Leave paint calculations up to our professional interior painters to ensure your Waukesha paint job is completed perfectly and within your budget.
Smooth paint jobs can require a variety of equipment.
Rollers, extension poles, handles, brushes and ladders can lead to better coverage and more efficient painting. Rather than buying painting equipment you'll use infrequently, let the interior painting professionals at Perfection Painting near Waukesha bring everything needed to get the job done right the first time.
Inexperience can lead to uneven lines and inconsistent coverage.
Properly mixed paint ensures uniform color when your Waukesha paint job requires multiple gallons of paint. A slight mistake can leave your walls with different shades and coverage. Large interior painting jobs can result in unattractive, uneven lines in corners and edges. At Perfection Painting, our interior painting experts are meticulous and efficient. We guarantee even coverage and a paint job completed to perfection.
Contact our interior painting professionals near Waukesha to ensure your home is painted to perfection.