New Berlin Residential Painting
Professional Portfolio >> New Berlin Residential Painting
New Berlin Painting Contractors Provide Detailed Residential Painting Services
Perfection Painting Corporation's skilled New Berlin Painting contractors added finishing touches to Lenox Square. These condominiums are new and required the highest attention to detail to ensure they were perfect for the new residents. Our New Berlin Painters utilized years of experience and skill to expertly prime the interior and exterior wood surfaces. All wood trim, door frames and staircase spindles were precisely painted to ensure every last detail was perfect. The wood surfaces of each room inside the condominiums were painted with a color which complemented each respective room. Our New Berlin exterior painting contractors meticulously finished the trim and doors with a perfectly matched paint color to provide an inviting atmosphere. The highest quality paint was chosen to ensure each wood surface would be protected from the elements and remain beautifully finished.
At Perfection Painting Corporation, perfection isn't just our name. Perfection is our creed. Our New Berlin painting contractors pride themselves in their expert precision and workmanship. Whether we're painting an entire home or merely staining a fireplace mantel, our New Berlin painters go above and beyond the industry standard to provide you with the most perfectly finished wood surfaces. We offer full residential and commercial painting and wood staining services and we work with you to ensure our services fill all your current and future needs.
Contact our superior New Berlin Painters to learn more about our residential painting services.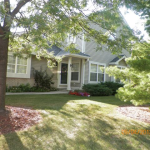 New Berlin Exterior Painters
---