Residential Staining Contractor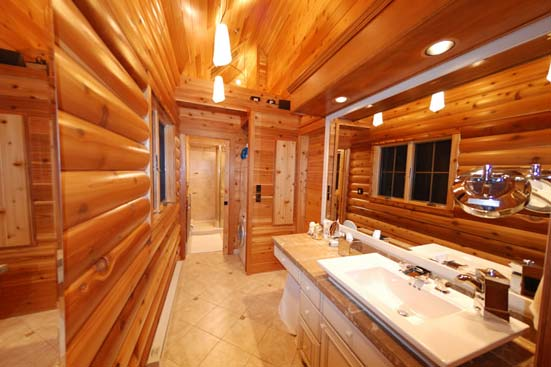 Wisconsin Wood Staining Experts
If you take a deep breath, you can practically smell the cedar in this Wisconsin Northwoods cabin. Sitting on an island in Catfish Lake outside Eagle River, this is one of the most unique houses our talented team of wood staining professionals have ever had the joy of renewing.
See that white frame around the big mirror on the wall? And the very expensive looking granite countertop? Some Wisconsin house painters wouldn't, and they'd drip or bleed wood stain on surfaces without even realizing it. If you're lucky, they might try to clean it up, but they'd just as likely make a bigger mess in the process.
Not the case with Perfection Painting Corporation. Our painters are professional artisans who take pride in two things above all else: a clean jobsite, and a job done perfectly.
When you let Perfection Painting Corporation into your home, the only thing we'll leave behind is a perfect finish.