Residential Exterior Staining Eagle River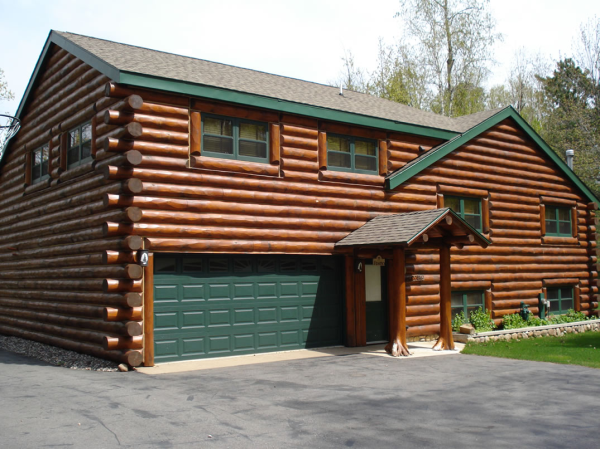 Wisconsin Wood Stain Professionals
There's more to protecting a log cabin that simply slapping on a couple coats of wood stain and calling it a day. When your goal is perfection, preparation is the key. Take this gorgeous log home near Eagle River, for example:
The wood stain professionals at Perfection Painting Corporation took the time to evaluate the cabin's existing finish before proceeding with the application of new wood stain. A few sample tests from several areas around the home's exterior are taken to determine the state of the existing stain. If the old stain is still adhering well to the wood, it can provide a suitable base for the new coat.
However, if the stain is showing signs of degradation, a round of strong cleaners or chemical finish removers will be required to remove it. Degradation is a product of expose to sunlight and moisture. Generally speaking, the south- and west-facing sides will typically weather fastest.
Next, the entire outer surface of the home is thoroughly washed to provide a clean, chemical- and dirt-free surface for the new stain. Any blemishes will be sealed in by the new stain, and chemical residue will damage stains as they are applied.
Once we are absolutely positive the surface of your log home is fully prepared, we apply a perfect protective exterior stain which will stay beautiful for years to come.
Talk to the wood stain experts at Perfection Painting Corporation for a free quote.