Helium Park Common Area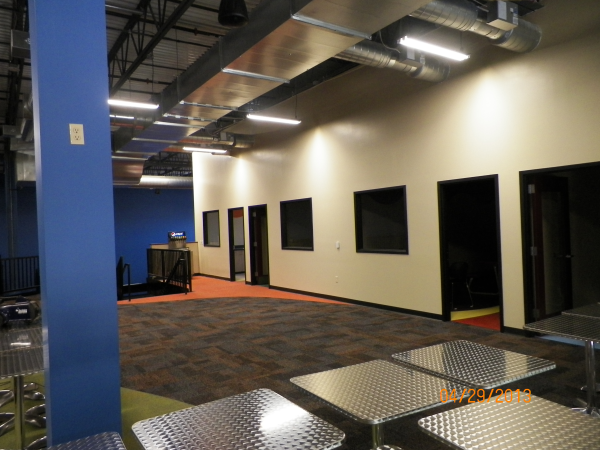 Lively Wall Painting Designs Complement Energetic Business
Perfection Painting's New Berlin commercial painters were called to the brand new Helium Trampoline Park to help create the perfect atmosphere for future guests. With a target demographic of families, kids, and party groups looking for a fun and unique outing, our New Berlin painters helped the owners decide on an energetic color scheme and painting plan.
Our commercial painting experts employed their years of professional painting design experience to create a complementary color scheme fully integrated into the overarching interior design concept.
Dominant primary blue works nicely to provide a welcoming environment and contrasts well with the exiting color and surface texture varieties already in place, providing visual stimulus intended to excite the attention of every visitor.
The contrasting cream-colored wall helps keep the room open and light. Our New Berlin painters take their time painting around door trims and duct work, ensuring a precise, professional result with no sloppy lines or mess left over.
Perfection Painting is dedicated to providing only the best and most professional paint jobs. This job shows why we are the commercial painters New Berlin trusts for great results.