Eagle River Exterior Staining Contractors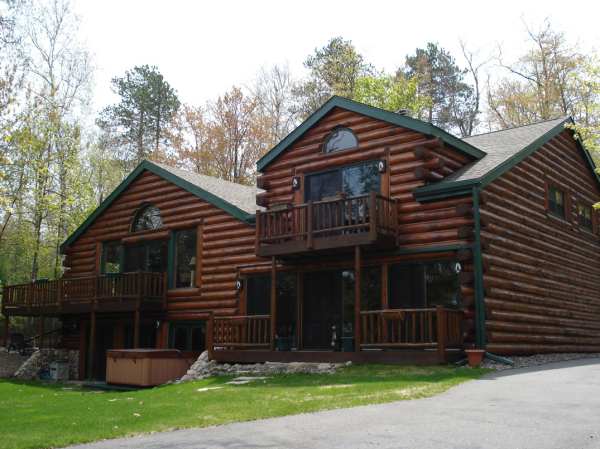 Professional House Painting and Staining in Wisconsin
There's nothing that says Northwoods Wisconsin like a beautiful log cabin home. To keep your cabin beautiful, a periodic reapplication of wood stain finish will reverse the effects of age and weather. Wood finishes around the exterior of a single log home degrade differently based on exposure to sunlight and moisture. Typically, the sides facing north and east are more protected from direct sunlight.
The Wisconsin wood staining pros at Perfection Painting Corporation apply new wood finishes which will help block out the aging effects of sunlight, moisture and seasonal temperature changes.
When it comes to exterior wood staining, it's best to avoid clear finishes. Even clear finishes billed as "UV-blocking" do a poor job protecting your log home from damaging ultraviolet rays. UV light breaks down lignin, which gives the cell walls of hardwood logs their strength. Pigmented stains are far more effective at blocking UV and keeping your logs structurally intact.
The detail-oriented wood stain experts at Perfection Painting Corporation will ensure your log cabin is protected from the elements with a fresh application of exterior wood finish.
When you need wood staining in Wisconsin, call the professional painters and stainers at Perfection Painting Corporation.