Waukesha Residential Staining
Professional Portfolio >> Waukesha Residential Staining
Perfection Painting Corporation's Waukesha residential painters take pride in this condominium reconstruction. Harrogate Condominium owners wanted to revamp their twenty building structure for restored beauty. After years of wear, paint was chipping and door trim was damaged from weather and other conditions. Owners rightfully turned to Milwaukee's best residential painting company. Our exterior painters decided to refresh the building to make it look new again. After discussing needs with the Harrogate owners, our experts power washed, primed, and applied a finish coat to wood trim in "Timbershade". A new coating withstands wear better than their old paint. Our experienced painters made sure to carry out the painting process with precision and timeliness. Owners and residents feel secure that these renovations will last.
Perfection Painting Corporation achieves perfection in all of our commercial and residential painting jobs. Our Waukesha contractors take pride in delivering superior workmanship to satisfy all our clients. Whether you need a wood trim clean up or a full on home makeover, we offer the highest quality service made to last. Painters tailor to your needs and beyond with our residential and commercial painting and staining services.
Call Perfection Painting Corporation at 414-378-5859 and find out why we're Milwaukee's best residential painters!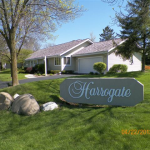 Waukesha Residential Staining
---