Waukesha Condominium Painters
Professional Portfolio >> Waukesha Condominium Painters
Years of Experience on a wide range of services
Our Waukesha painters demonstrate years of experience on projects like The Villas of Waukesha. Projects like this newly constructed condominium in Waukesha demonstrate the wide range of services Perfection Painting Corporation provides. Thorough interior and exterior painting services were provided to create a high quality experience for condominium owners and guests. Exterior painting services include the priming and finishing of doors and trim throughout the condominiums. Our exterior painting services focus on long-term protection and beautiful quality. Our Waukesha painting contractors applied their professional expertise within the interior of each condominium. Interior painting services include painting ceilings, walls, wood trim, and doors. Unrivaled attention to details demonstrates how our Waukesha painting contractors understand the importance of even the smallest parts of every project. Our Waukesha painters also provided The Villas of Waukesha with protection from the harsh Wisconsin weather with our residential caulking and sealing services. The caulking and sealing of doors and frames ensure condominium owners that they will save on energy bills by minimizing air flow and drafts. We use only the highest quality caulk and sealant to allow residential HVAC systems to work to their full potential. The Villas of Waukesha construction utilized several of our professional, high-quality services to ensure every new owner would be satisfied.
Perfection Painting Corporation contractors have years of experience providing services like these across Southeastern Wisconsin. Come to Perfection Painting Corporation for any of your interior or exterior needs.
Contact the Waukesha painting contractors at Perfection Painting Corporation for superior exterior and interior painting services today!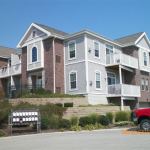 Waukesha Condominium Painters
Waukesha Painting Contractors
---