Milwaukee Wall Covering
Professional Portfolio >> Milwaukee Wall Covering
Vinyl Wall Covering Installation Professionals
Perfection Painting was called in to install a vinyl wall covering for a Milwaukee restroom. The exotic design of this wall covering gave the room a fresh, clean look instead of the hum-drum color scheme from before.
We install the best material for our wall coverings, ensuring your interior walls won't have any bubbling or swelling. This material is damage- and wear-resistant commercial grade. Cleaning is made simple, and scuffs or stains just come right out with a quick scrubbing.
This bathroom wall covering is 54 inches. The restroom vinyl is just one of a variety of wall covering designs and sizes to choose from. Our popular commercial grade 64-inch wall covering is at your disposal. We offer additional sizes to better meet your needs.
To select a vinyl wall covering for your business or home interior, look to the most experienced painters in the greater Milwaukee area: Perfection Painting.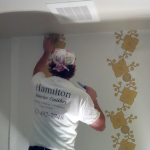 Wisconsin Vinyl Installation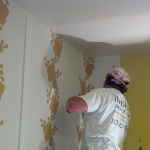 Milwaukee Vinyl Wall Covering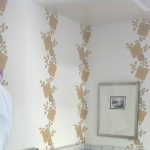 Milwaukee Commercial Wall Coverings
---